1. Magic Absorption Layer:
The New transient Absorption pore surface design, allows instant and effective absorption to keep your baby dry.
2. Macrocyclic Elastic Waist:
Ensuring comfort, flexibility and a perfect fit.
3. Personalized fit conforms to the babies curves:
The innovative design perfectly fits to your babies legs, efficientlx avoiding O-shaped legs. Less rub but more comfort and ease to give every baby 100% protective loving & care.
4. S-Cutting Fabulous Velcro Tape:
Helps to refasten and loosen time by time and replace diapers easily.
5. 3D Elastic Leak Guard: well fitting and side leakage-proof:
Multi-strand 3D leakage-proof like Mummy's warm hugs: allows comfortable snug fit without pinching the skin and prevent leakage at the crotch area.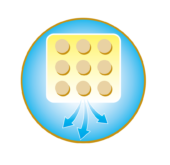 6. Special Back Sheet:
30.000 pores on 1cm2. The innovative design keeps back sheet soft and breathable. Reduces friction, avoiding red buns on your babies skin.
7. New Wetness Indicator: 
Changes colour when wet. Two obvious beige wetness indicator lines will change to blue colour when wet. The time reminder is to help every Mummy to ensure the maximum dryness and the baby's comfort.

ETC GmbH
Linzerstrasse 139-141, 3003 Gablitz
Austria 
info@soloria-plc.com
UID: ATU 69026804
IBAN: AT30 4300 0404 9889 1007
BIC: VBOEATWWXXX