Ultra cotton surface, pamper sensitive skin and make absorption twice faster.
Green Negative ion chip effectively enhances anti-bacteria capabilities, neutralize odour.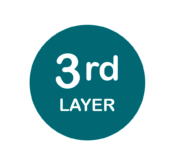 Upper Dust-free paper, provide 360 degree full protection.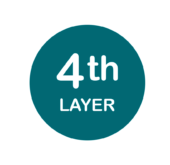 Unique and exclusive padding Absorption well-balanced further Prevention side leakage.
Lower Dust-free paper, Provide 360 degree full protection.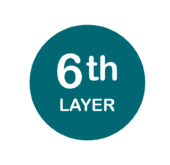 Soft breathable waterproof bottom film allows air circulation, eliminating heat and moisture.
Release paper and Adhesive, hold pad onto pants and no move.
Soft wrapper, individually Packed to protect pad Inside clean and safe.
Anion pads are negative ions in Sanitary Pads! Negative Ions have proven to improve your health & well being.
What are ANIONS?
Anions are also called "Vitamins of the Air" Negative ions are odourless, tasteless and invisible molecules that we inhale in large quantity in certain environments such as mountains, waterfalls and beaches. Once they reach our bloodstream, Anions produce biochemical reactions that increase levels of the mood chemical serotonin, helping to alleviate depression, relieve stress and boost our daytime energy. Negative ions increase the flow of oxygen to the brain, resulting in higher alertness, decreased drowsiness and more mental energy.
How do these Anions work in the sanitary pad?
Every cubic cm. of the anionic padding in each piece of sanitary napkin can release up to 6070 anions. The intensity of anions released will effectively suppress the survival and multiplication of bacteria and viruses on the sanitary napkin.
The anion padding releases large amount of oxygen, has balanced pH level and enhance hormonal balance that effectively improves incretion, strengthening immunity, reducing stress.
MAIN BENEFITS of using "ANION" Sanitary Napkin:
RELIEVES STRESS
CONTROLS BACTERIA
CONTROLS INFLAMMATION
ELIMINATES BAD SMELL
ENHANCES METABOLISM
IMPROVES HORMONE SECRETION
STRENGHTENS IMMUNE SYSTEM
REDUCES BODY FATIGUE
CAN PREVENT DYSMENORRHEA
and, more than what is listed above.
The experts have discovered that the rate at which women experience pregnancy miscarriages in under-developed and developing nations are higher compared to that of developed nations. Other problems that women faces day in day out are as follows:
Genital diseases
Fibroid patients
Toilet diseases
Menstrual discomfort, e.g. painful menstruation, stomach upset etc.
Cancers
Turmoil
Dark blood/ unhealthy flow of blood during menstruation
Menstruation disorder
Infertility (inability to conceive)
Body/virginal itching
Virginal discharge before and after menstruation, etc.
All cases listed before and those that are not listed here in most cases caused by bacteria which most times we contacted from:
The water we take
The toilet we use
The environment we live in
THE sanitary pads/NAPKINS we use during our menstruation period and other related uses.
This is the most common and easiest way to contact the above listed disease than the other three contacts above.
I urge you to go home today, pick one of the ordinary pads you have been using before, tear it open and you will see that it is not difference from your toilet tissues. They have nothing to protect you from bacteria or fungi, they are exposed to bacteria even more than your body because of their poor packaging.
Now that you know, you are now the architect of your miscarriages, or other related disease you may experience in future time!

ETC GmbH
Linzerstrasse 139-141, 3003 Gablitz
Austria 
info@soloria-plc.com
UID: ATU 69026804
IBAN: AT30 4300 0404 9889 1007
BIC: VBOEATWWXXX